GCM Market Commentary - August 24, 2015
August 24, 2015
Good afternoon,
After a difficult week of market declines, it appears that we are on track for at least one more day of selling pressure. With this in mind, we felt it prudent to share a few words on what's happening and what we're doing about it.
Like most market declines, the cause is not singular; we have identified three key actors. First, China has demonstrated some economic weakness and lack of expertise within the government on how to handle such situations. This is not necessarily "new" information, but the market has started to react. Second, the Federal Reserve has, in our opinion, not handled the talk of a "rate rise" very well. Markets tend to react poorly to uncertainty, and the Fed's uncertain public stance towards raising rates in September has caused some turmoil. Third and finally, and perhaps most interestingly, August is typically the lowest-volume month of the year on the major exchanges. Most traders spend the month of August vacationing in the Hamptons away from their desks and computer screens. With very few market participants, the price of individual securities can vary dramatically in order to facilitate trades between buyers and sellers. This morning's open felt very similar to the "Flash Crash" during the summer of 2010, when the Dow Jones Industrial Average was briefly down over 1,000 points with seemingly no rhyme or reason why. Just like that event, however, the market has corrected its mistake and has begun to re-price securities in a more reasonable fashion.
So, what are we doing in response? The smartest strategists that we follow (our financial advisors, if you will) are staying the course, and many view this decline as a buying opportunity for high-quality stock names. Despite what the market may tell you, Walt Disney Co. isn't going to stop making wonderful children's movies, the public will not stop buying Apple iPhones, and Kraft will continue selling Macaroni & Cheese. As with market declines of history, this too shall pass. To that point, the attached chart from Bespoke Investment Group published August 23, 2015 shows historical 5%+ drops of the S&P 500, along with the market's response in the following weeks. In many cases, a sharp decline is followed by a snap-back rally.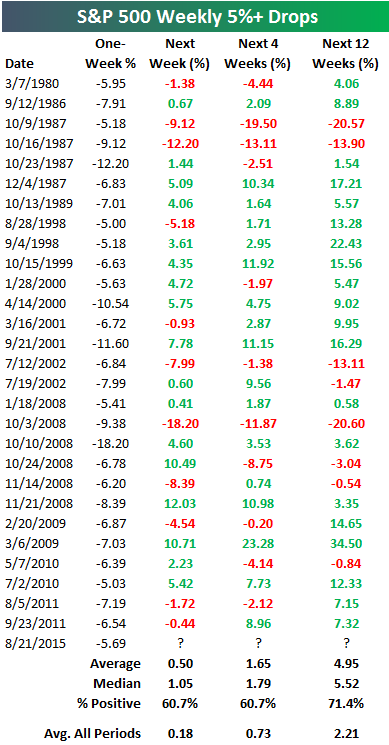 Also attached is a link to a Wall Street Journal blog article, titled "5 Things Investors Shouldn't Do Now." While we tend to avoid numbered lists like these, this one caught our attention because of its succinct nature and wise advice. To summarize:
1) Avoid the news. If you have the inclination to turn on CNBC, consider one of the aforementioned Disney movies instead. The quality of information is about the same, but one will make you much happier than the other. Remember that the media is primarily motivated to sell ads and increase viewership; they are not incentivized to present clear, unbiased information.
2) Don't panic. As we discussed in our newsletter last month, the fundamental economic data is still positive despite this slump. Making any decision without a clear head is a mistake, and panicked selling tends to result in regret.
3) Re-evaluate your personal risk tolerance. For those who may be new to investing or have not experienced a decline like this in the past, use this selloff as an opportunity to consider whether your portfolio is appropriately structured for your true risk tolerance. Can you withstand a 10%, 15% or 20% drop? It's very easy to be an aggressive risk-taker when the markets are going up, but it doesn't feel so good on the way down.
4) Don't focus on the term "correction." The media loves to create buzzwords for market events to emphasize their significance. In reality, a decline of 10% is no more significant or insignificant than a 9.9% dip. What is important is keeping an eye on the future.
5) You are not a fortune-teller, and neither isanybody else. As WSJ says, "the louder and more forcefully a market pundit voices his certainty about what is going to happen next, the more likely it is that he will turn out to be wrong."
We are watching this situation very carefully. Please do not hesitate to give us a call or send us an email if you have any questions or would like to discuss further.
Peter H. Gore, CFA, CFP®, MBA
Ben Sadtler