GCM Month End Commentary - September 1, 2015
Dear clients and friends,
As we outlined in our letter dated August 24th, the global markets have fallen victim to major swings over the past few weeks, led by growth fears in China and uncertainty regarding the Federal Reserve's timeline on raising interest rates. Given this backdrop, it is not surprising that the market has followed a downward-to-sideways trajectory as investors digest these disruptions. However, we still feel that the economic picture is brightening here in the US and in Europe.
Events like this emphasize the value of a well-diversified portfolio that has likely been insulated from the most extreme market movements. Nonetheless, you will likely see a decline in portfolio value on your statement, both for the month and for the year so far. Here's where we stand as of August 31st:

Always keep in mind that month-end statement values and index performance data only represent one moment in time. While it is important to track progress, the exercise is only valuable over a time horizon that reflects your individual objectives and risk tolerance.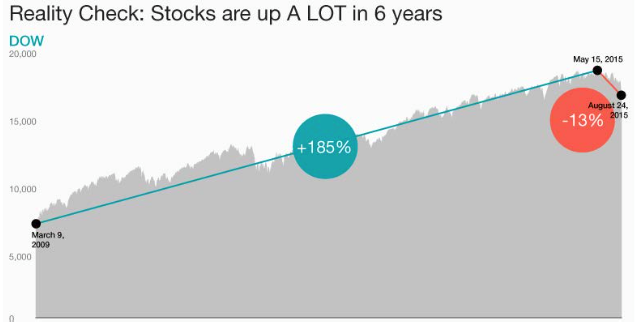 To put things into perspective, take a look at the accompanying chart of the Dow Jones Industrial Average (sourced from Sterling Capital). From the March 2009 lows to the May 2015 peak, the Dow gained 185%. It may be difficult to believe, but the 13% decline we have witnessed since May is actually a healthy and necessary part of the market's process.
Typically, market corrections like this are a result of economic turmoil (recession) or irrational investor behavior (psychology). Both actors are inevitable within the ebb and flow of the business cycle, but the former presents a much greater risk of long-term downward pressure on the markets. We believe we have experienced the latter.
First, investor sentiment as measured by the AAII has reached an extreme low only seen a handful of times over the past 30 years. In fact, the level of bearish sentiment is lower now than it was in 2009 (Great Recession) and 2000 (dot-com bubble). The chart below was pulled from Sterling Capital's "Weekly Recap" dated August 31, 2015: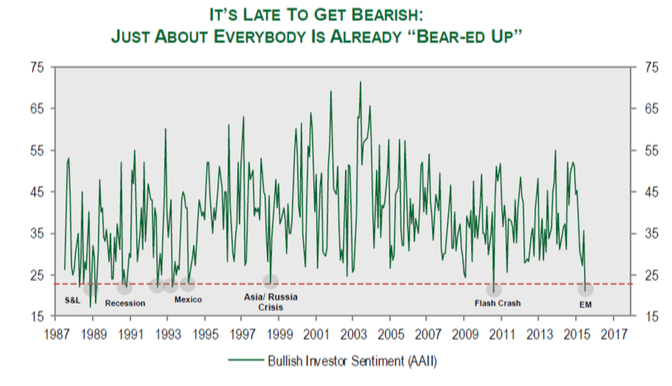 Second, the data is not indicating contraction of our economy, nor the economy on a global scale. In fact, second quarter GDP was revised this past week from 2.3% growth to 3.7% (according to the Bureau of Economic Analysis), an increase of more than 50%. Furthermore, consumer spending is showing a small increase, and corporate insiders are purchasing stock at the highest rates since May 2012 (according to Sterling Capital's "Weekly Recap" dated Aug 24, 2015).
We believe the upgraded figures for GDP will carry through the third and fourth quarters of the year, and will lead to improved corporate earnings across the market, especially in the health care, consumer/retail, and financial sectors. The energy sector will likely continue to feel pressure, as oil prices have yet to settle. However, low gas prices will hopefully further spur consumer spending forward.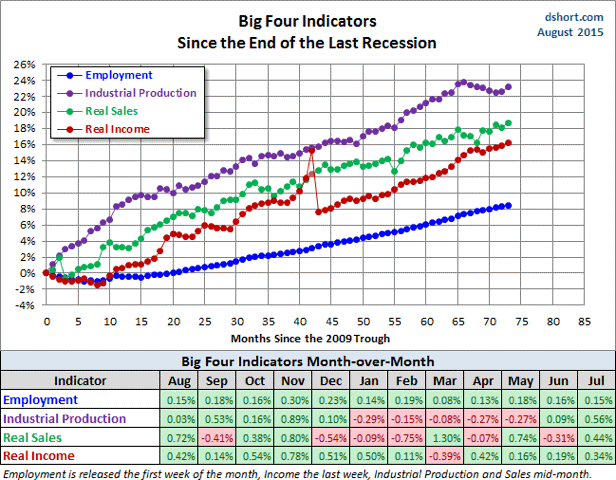 As the accompanying chart from Advisor Perspectives illustrates, the so-called "Big Four Indicators" of economic health are all showing an upward, if slightly bumpy, trajectory since the recession in 2009. The fact that all four indicators point positive indeed suggests with confidence that the economic situation is improving markedly.
The Federal Reserve continues to throw us (and the rest of the financial industry) for a loop; we are no longer making predictions, prognostications, nor educated guesses as to what interest rates will do in the near term. We have been fooled too many times. On a lighter note, the New York Times has predicted that interest rates will meet their bottom during Janet Yellen's tenure as Federal Reserve Chairwoman. They have noted a high correlation between falling interest rates and the declining height of past Fed Chairpeople. Indeed, it will be a challenge to find an economist below 5 feet tall to replace Ms. Yellen when the time comes. Although this may be a joke, the data is as useful as any other information in predicting the future of interest rates.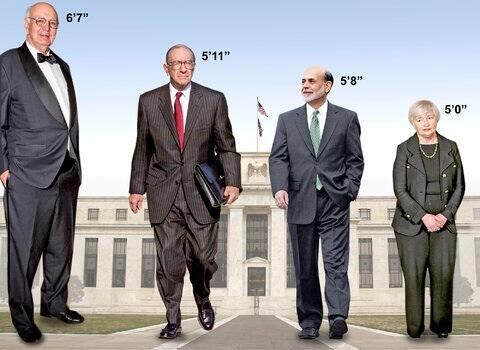 It is important for us to remain clearly focused on the future, and we are still encouraged by what we see. However, we would not be surprised to see the market continue its sideways move, and perhaps even re-test the late August lows, over the next few weeks.
As always, please do not hesitate to call or email us with any questions or concerns. We encourage everyone to use this downturn as an opportunity to re-evaluate risk tolerances, and to connect with us if you feel a change is necessary.
Take care,
Peter H. Gore, CFA, CFP, MBA Ben Sadtler